TivoliVredenburg opened its doors in 2014. However, our history goes back a lot further. The city of Utrecht has had a very rich cultural life for centuries.
TivoliVredenburg is the result of a merger between Music Centre Vredenburg and pop venue Tivoli. Their collective histories are intertwined and have left their mark on the venue that we now know and love. Read on and learn more about our history and other milestones in the more recent past.
In 1823 a public garden opened on the Kruisstraat: Tivoli. Here, concerts are presented in the open air. In 1871 a concert hall is built within the gardens, which is also named Tivoli. Many 'Utrechters' come here to take a stroll, hear music and socialize. After eighty years of heavy use the building is bad shape. In 1955 the building on the Kruisstraat is demolished, and a temporary concert hall, entirely constructed out of timber, is opened at the Lepelenburg park. Because of its temporary nature, the building is built between, around and over the trees. Meanwhile, the city council decides to build a new, permanent music venue at Vredenburg square. Herman Hertzberger is appointed as the architect - in 1977 the first stone is laid.
Rear view of concerthall Tivoli from within park Tivoli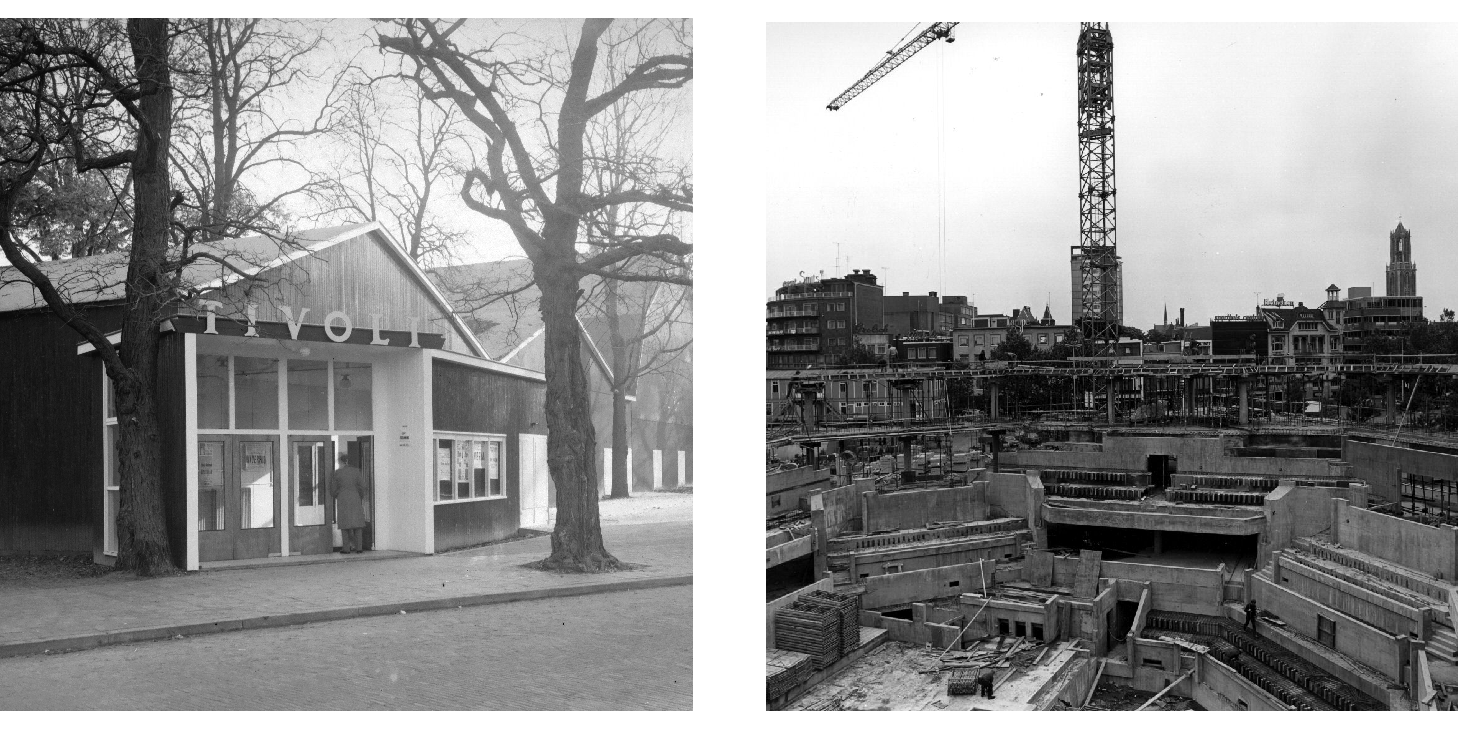 Photo: G.J. Lauwers (l), Fotodienst GAU (r)
Muziekcentrum Vredenburg is opened in 1979. The temporary building at Park Lepelenburg, Tivoli, is squatted: the unofficial Komité Tivoli Tijdelijk (Committee Temporary Tivoli) hosts pop and punk shows there. However, the building burns down not much later, in March 1979. Tivoli Tijdelijk finds a new home in the former N.V. Huis on the Oudegracht (Old Canal). After a very turbulent start the city of Utrecht agrees to legalise the new Tivoli in 1982 – Utrecht now has a legitimate pop venue. Tivoli Oudegracht is a home base for many concerts, dance nights and festivals. Legendary artists like Prince, Pearl Jam, Pixies, Red Hot Chili Peppers, Queens of the Stone Age, Arctic Monkeys and Nirvana perform at Tivoli.
Photo: Fotodienst GAU (l), Juri Hiensch (r)
After a few trial concerts Muziekcentrum Vredenburg officially opens its doors on January 26th, 1979. Her royal highness princess Beatrix and prince Claus attend the start of the ten festive opening days. Besides countless classical concerts, Vredenburg also presents jazz, pop and world music.
In 2004 the City of Utrecht presents plans to build a new 'palace of music', in which Tivoli Oudegracht, Muziekcentrum Vredenburg and jazz venue SJU will merge. Muziekcentrum Vredenburg closes its doors in 2007, in order to make room for a partial demolition, and the construction of five more halls next to, around and over the existing Great Hall. Concerts continue in Vredenburg Leidsche Rijn, also known als 'The Red Box'.
Photo: Het Utrechts Archief (l)
On June 21st 2014 King Willem-Alexander opens the new TivoliVredenburg. The Great Hall, which was deemed indispensible by the people of Utrecht, was saved. Five different architectural firms contribute to the design of TivoliVredenburg: every hall has its own use and character. Every conceivable music genre has a place here, under one roof, in six halls and the many open spaces in between. Within a year TivoliVredenburg welcomes its millionth visitor.
Photo: Femous Productions (l), Maarten Mooijman (r)
In and around TivoliVredenburg construction continues. In 2016 the historic canal, that runs alongside our building, is restored. Water now flows along the terraces of the newly opened café Het Gegeven Paard and restaurant Danel. In the first few years thousands of events, countless festivals and many highlights follow. In 2019 – the year in which we celebrate our fifth anniversary and the fortieth anniversary of the Grote Zaal – we receive 1.2 million visitors.
Photo: Michiel Ton
March 12, 2020. TivoliVredenburg is shut down due to the corona virus. Hundreds of concerts are canceled or moved, sometimes up to five times.
We close, reopen a little bit, scale up, scale down, close, reopen, close again. The corona guidelines dictate our programming: concerts for a maximum of thirty or fifty people, with mandatory seating, until midnight, and so on. Sometimes (almost) everything is allowed again. It's improvising all the time. In the book OFF/ON we describe this rollercoaster during the first corona year.
Walk The Line is born; surprise tours along the various rooms in our building, with a different musical interpretation every time. A parallel reality is created online, with hundreds of live streams via platform Studio TivoliVredenburg.
From the end of February 2022, the doors of TivoliVredenburg open wide again. After two years of limited opening hours and changing rules under the influence of corona. We can finally do what we are here for: welcoming the public and presenting a versatile program for everyone.
Photo: Iggy Pop (l), Pynarello en Gallowstreet from a floating stage in the canal next to our building (r)
Photos by: Jelmer de Haas